EMERGENCY RESPONSE PLANS
TRP's Emergency Response Plans incorporate site-specific actions and procedures that significantly lessen the impact of emergencies. Those responsible for the overall emergency preparedness program are challenged by:
Budget restraints

Multiple and changing regulatory requirements

Plan accuracy and accessibility

Managing plans for multiple facilities

Ensuring Plan consistency
TRP's Web-Based Planning Systems can be utilized to deliver an Emergency Response Plan for a single large facility or for many locations across an entire company. The intuitive interfaces and database-driven architecture allows program managers to:
Minimize plan maintenance costs and time requirements

Eliminate gaps in regulatory compliance

Streamline plan format

Automatically verify responder contact information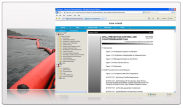 TRP's Emergency Response Plan features include:
Integrated database that links common plan information and reduces time required to prepare and maintain site-specific information

Streamlined, intuitive emergency response plan formats that improves plan functionality

Hyperlinks regulatory cross references to to corresponding plan information to ensure compliance

Secured access through encryption and state of the art data centers.

Contact Verification Tool ensures emergency contact list contains the current information via a "self-verification" e-mail system

Back-up Functionality allows clients to download plans to network or other locations

Automated Record of Changes provides chronology and details of plan revisions

Instantaneous updates ensures the most up-to-date information is immediately viewable by plan users
TRP develops emergency response plans to address emergencies applicable to your facility, including:
Fires

Oil and hazardous material spills and releases

Natural disasters

Security issues

Medical emergencies

Power failures
TRP has developed emergency response plans for many different types of facilities and corporate operations, both domestic and international. TRP's streamlined, intuitive emergency response plan formats have been utilized for many years in a variety of applications.
TRP develops emergency response plans as stand-alone documents or can seamlessly integrate them with other plan types, including oil spill, spill prevention, fire pre-plans, security, and others.
To learn more about Emergency Response Plans and TRP's Web-Based Planning Systems, CONTACT TRP.